Uncovering Expertise—An Internal Search Hub for Fostering Fresh Ideas and Opportunities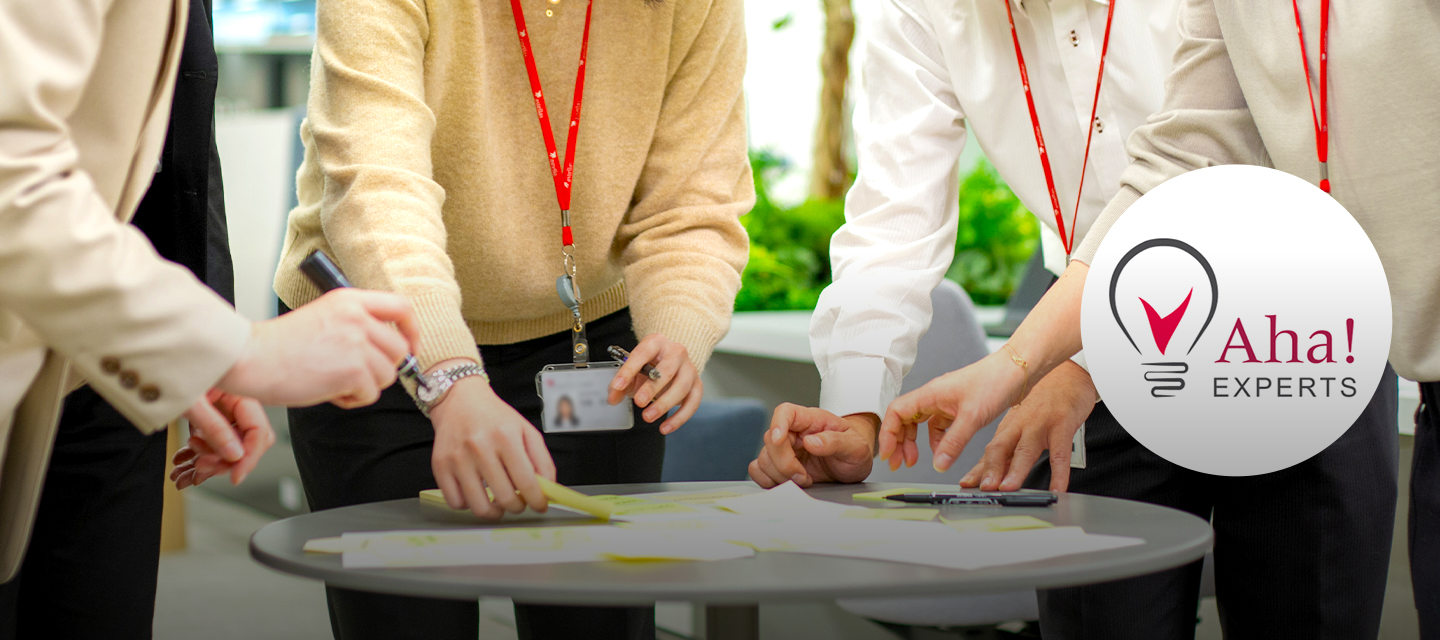 Astellas' raison d'être is to "contribute toward improving the health of people around the world through the provision of innovative and reliable pharmaceutical products". To achieve this, we are committed to fostering an inclusive workplace where our employees can reach their full potential and drive progress.
As a global company, our diverse employees embrace differences in nationality, race, culture, and religion and creates VALUE for patients through our expertise. However, there is a possibility that some of our expertise may go untapped if it is not directly related to job responsibilities. To address this, Astellas developed an internal search system, "Aha! Experts," to efficiently uncover hidden skills and realize fresh ideas and greater innovation.
The team behind the system consists of developers Takehiro Miyazaki from the Research Strategy & Communications, Shinya Katagiri from the Information Systems Division, and Takahiro Aminaka from the Human Resources Division, who have been promoting its use within the company. The three discuss their perspectives on the system's growth.
The challenge of streamlining internal expertise
Takehiro Miyazaki first came up with the idea for the Aha! Experts system after facing challenges while working abroad. He says, " After my transfer, I encountered difficulties in finding the appropriate colleagues for even basic work requests. This was due to my unfamiliarity with their skills and experience, and my limited English proficiency at the time made it challenging to determine the best fit. I started to think that it would be more efficient if we had a system that allowed us to quickly identify who to ask for help and what level of expertise to expect. That way, we could break down any communication barriers due to differences in language, culture, and customs."
Takehiro's opportunity to realize this desire came in 2019, shortly after he returned to the Corporate Strategy Division at headquarters. During an internal competition for new DX ideas, three of Takehiro's colleagues from the Human Resources, Manufacturing, and Commercial Divisions submitted a proposal for an internal personnel search system, and the project was given the green light. Inspired by his peers, Takehiro took charge of the project to develop it further.
He recalls, "We all shared the same thoughts; the concept that Astellas has a lot of untapped expertise. If we could easily locate our employees and understand their skills and abilities, it would increase communication efficiency and foster collaboration. I remember how excited we all were about the idea."
Before the development of Aha! Experts, finding the right person to approach within the company was largely manual, relying on intuition about divisional roles or personal contacts. But this method was inefficient and sometimes resulted in an inability to find the right person, requiring reliance on external sources. Geographic distance, time zone differences, and functional boundaries between Research, Development, Manufacturing, and Commercial Divisions also made it difficult to fully understand employees' skills.
To address this issue, Takehiro and his team initiated the development of the Aha! Experts system in January 2020. They launched a pilot in the summer of 2020 and, after iterative testing and refinement, fully implemented the system company-wide in July 2022.
A path to nurturing new possibilities
Aha! Experts is a globally accessible system for employees. It allows users to search and find relevant personnel based on their needs and present a list of potential contacts for direct outreach. The first step is to increase the active registration of employees in order to increase the usefulness of the system.
 
Takehiro explains, "With Aha! Experts, employees can connect with colleagues across borders and divisions to access the information and expertise they need. This cross-functional collaboration uncovers hidden talent and drives innovation. In addition, by fostering connections based on shared knowledge and interests, Aha! Experts expands personal networks and increases employee engagement." 
Employee feedback has been positive for those who have used the system.
 
Connecting employees for digital transformation
"Our division's goal was to use digital tools in daily work. Aha! Experts facilitated this by connecting us with like-minded colleagues from different divisions, leading to a solution to common problems. Aha! Experts fostered connections that have since evolved into an internal community with the common goal of pursuing automation through digital technology. Cross-divisional collaboration and idea exchange continue to drive digital transformation today."
Employee from Pharmacovigilance Division
---
Realizing efficient internal network expansion
"Although I've only been with the company for a short time, I've already connected with colleagues through Aha! Experts, and I can have in-depth conversations with colleagues I am meeting for the first time because of the background knowledge I can glean from the system.
I've also become friends with someone who used to work at the same company, and we regularly exchange ideas and opinions on common workplace issues. I find it easy and efficient to search for potential connections and learn about their skills, which means there are many opportunities to expand my network."
Employee from Corporate Strategy Division
A system that fosters personal growth
Shinya Katagiri, a system owner who supports operations, predicts growing demand for Aha! Experts. "With the shift to remote work and limited face-to-face communication, more people are looking for an easy and efficient way to learn more about their colleagues." 
He explains that he and the team plan to continually improve the system's capabilities.
Takahiro Aminaka, who provides HR support for the project, also shared his thoughts. "Aha! Experts is not just an employee search system but a tool for personal growth where users can reevaluate their knowledge, expertise, and interests. Some employees may be reluctant to share their skills due to a lack of confidence in self-promotion, but we encourage them to use the system. As adoption of Aha! Experts grows, Astellas will be transformed into a growth-oriented workplace where everyone can continue to develop themselves."
Maximizing employee potential—Astellas' journey to a people-powered organization
Astellas' Organizational Health Goals (OHGs) are a central element of our Corporate Strategic Plan 2021, which outlines the company's direction through fiscal year 2025. The OHGs were established to support our journey to become an organization that unleashes the full potential of our people. Our company culture promotes employee empowerment and aims to cultivate a workplace where everyone can fully utilize their skills and abilities to create VALUE for society, and the Aha! Experts project plays a crucial role in achieving this goal.