Astellas' VALUE powered by people — New Challenge of HR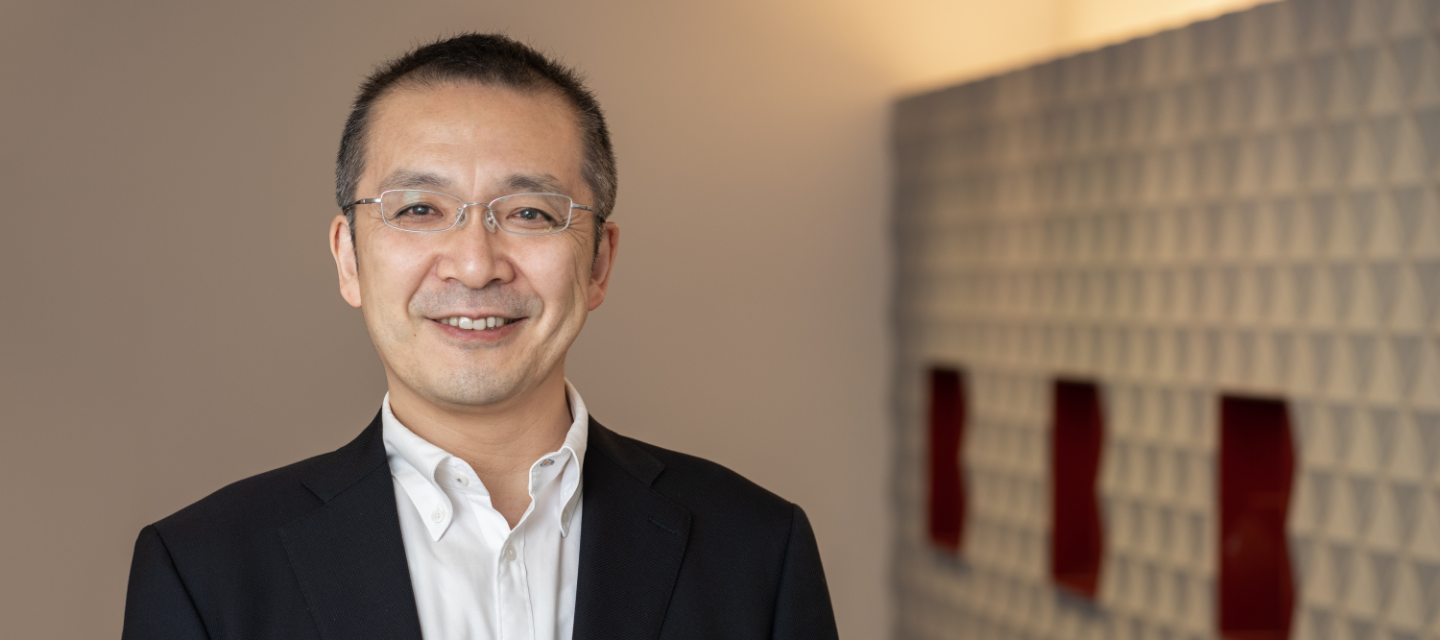 Astellas always works to achieve our VISION to stand "on the forefront of healthcare change to turn innovative science into VALUE for patients". Utilizing the power of people is key to delivering this VALUE to patients around the world. We established new Organizational Health Goals in the Corporate Strategic Plan 2021 (CSP2021) and explained how we will step forward to maximize each person's abilities more than ever.
Katsuyoshi Sugita has been involved in HR management at global companies for many years and was appointed Head of Astellas' HR division in May 2021. He discusses our HR system, our people, and how we can create an environment where people can maximize their abilities.
"Place the right person in the right position" on a global scale and optimize the talent potential
What was your impression of Astellas when you were appointed the Head of the HR Division?
When I joined Astellas in May 2021 as the Head of the HR division, the company was much more globalized than I had assumed. Objectively speaking, not many Japanese companies have achieved such steady globalization in terms of sales, employee composition ratios, organizational structure, awareness and mindset of senior leaders, and various HR systems and support systems for employees.
The globalization of Astellas' business has been accelerating since around 2015. We bolstered our R&D capability to produce new drugs by proactively incorporating external resources or making acquisitions under our "3B Strategy," which calls for us to go where the most advanced science is (Best Science), working with the world's top people (Best Talent), and conducting R&D activities in the optimal environment (Best Place). The globalization of divisions within the company has accelerated as well, so it is only natural that we need global HR policies and operations to support this.
Many Japanese companies that are expanding their business globally have split their HR divisions between domestic and international—the underlying idea, I think, is that business is business and HR is HR. However, HR is a key function that contributes to the business, and I've always felt that countless companies fail to properly link the two. In contrast, Astellas' motto regarding HR is "place the right person in the right position." We find the right person for the job, making sure we align abilities and aspirations with the positions.
What kind of HR system is needed to realize "place the right person in the right position"?
We choose the most qualified people throughout the organization—regardless of nationality, gender, age, or any other factors other than ability—to key positions that oversee global operations. There are no restrictions as long as they meet the requirements for a particular position. In fact, Astellas has appointed talented people from various countries to division head positions, making our company an extremely transparent and competency-oriented operation.

* Executive Committee: The Executive Committee discusses important matters of management across Astellas. It is chaired by the Representative Director, President and CEO.
*1 Established Markets: Europe, Canada, Australia
*2 Grater China: China, Hong Kong, Taiwan
*3 International Markets: Russia, Latin America, Middle East, Africa, South East Asia, South Asia, Korea, etc.
We must also make sure to place the right person in the right position continuously. To this end, we devise succession plans for certain grades and positions globally, and identify and develop talents who meet the requirements for those positions.
Regarding job evaluation, the grading system is standardized globally, and the job evaluation criteria is also standardized globally. We have a consistent and well controlled process in devising a globally common format and system for objective setting and performance appraisal. On top of that, we set goals to ensure that our strategies are executed and our contributions are recognized, with fair appraisals based on roles and performance and market-competitive compensation.
What kind of systems are applied to optimize the talent potential?
We provide individuals with opportunities to develop their careers according to their aspiration, abilities, and aptitudes. In 2020, we introduced a new global job posting system for internal recruitment that allows all employees to browse positions around the world and apply for the ones they are interested in. Employees can now visualize their careers from a broader perspective. This system also includes a job description for each position and makes the skills and abilities required clear, allowing employees to envision their careers and identify the skills and abilities they need to possess.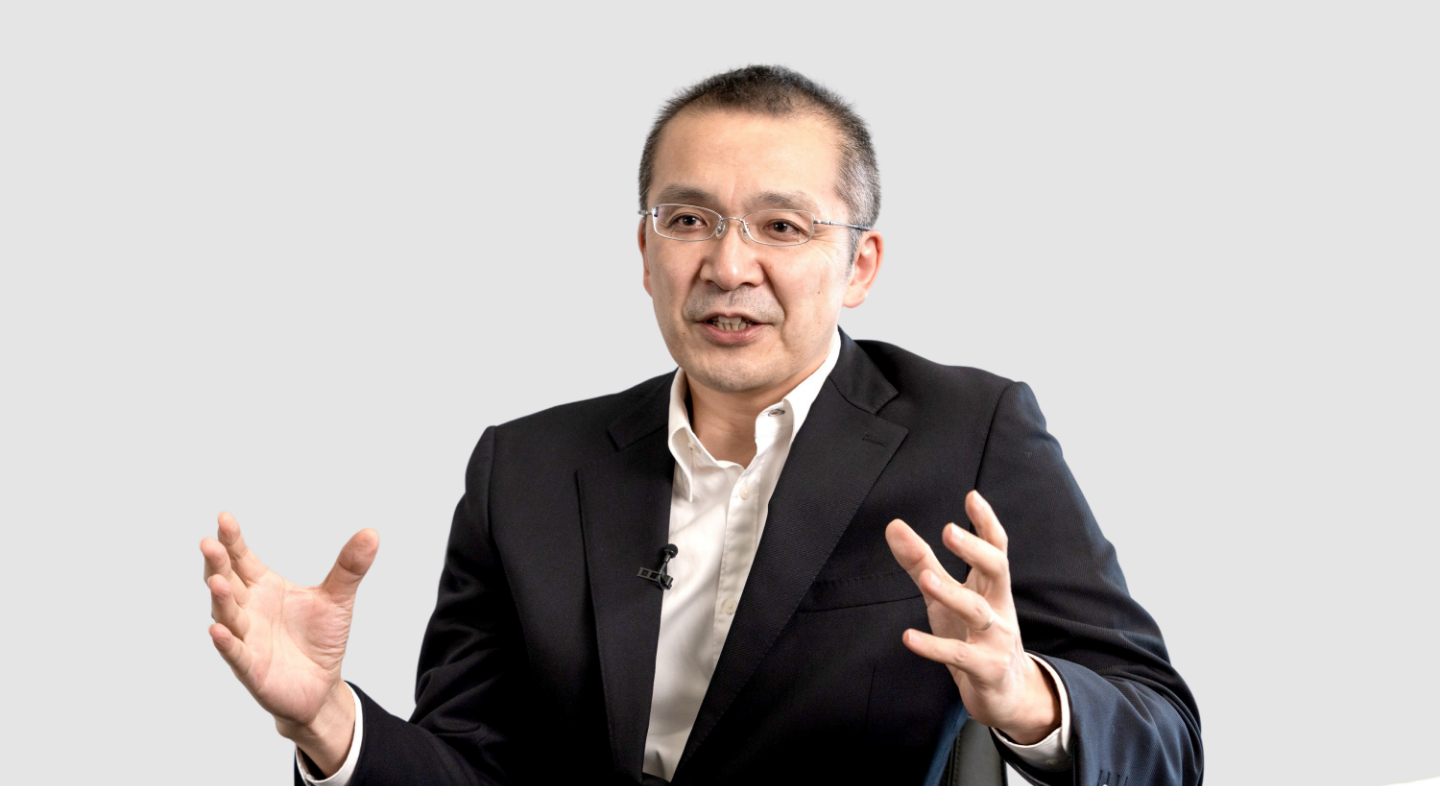 In addition, Astellas proactively provides attractive growth opportunities for leadership development to employees who consistently outperform and have ambition. For managers in a certain level and above, we provide a 360-degree evaluation, in which employees from various positions—including supervisors, colleagues, and subordinates—appraise their performance from multiple perspectives, giving them insights into their leadership abilities.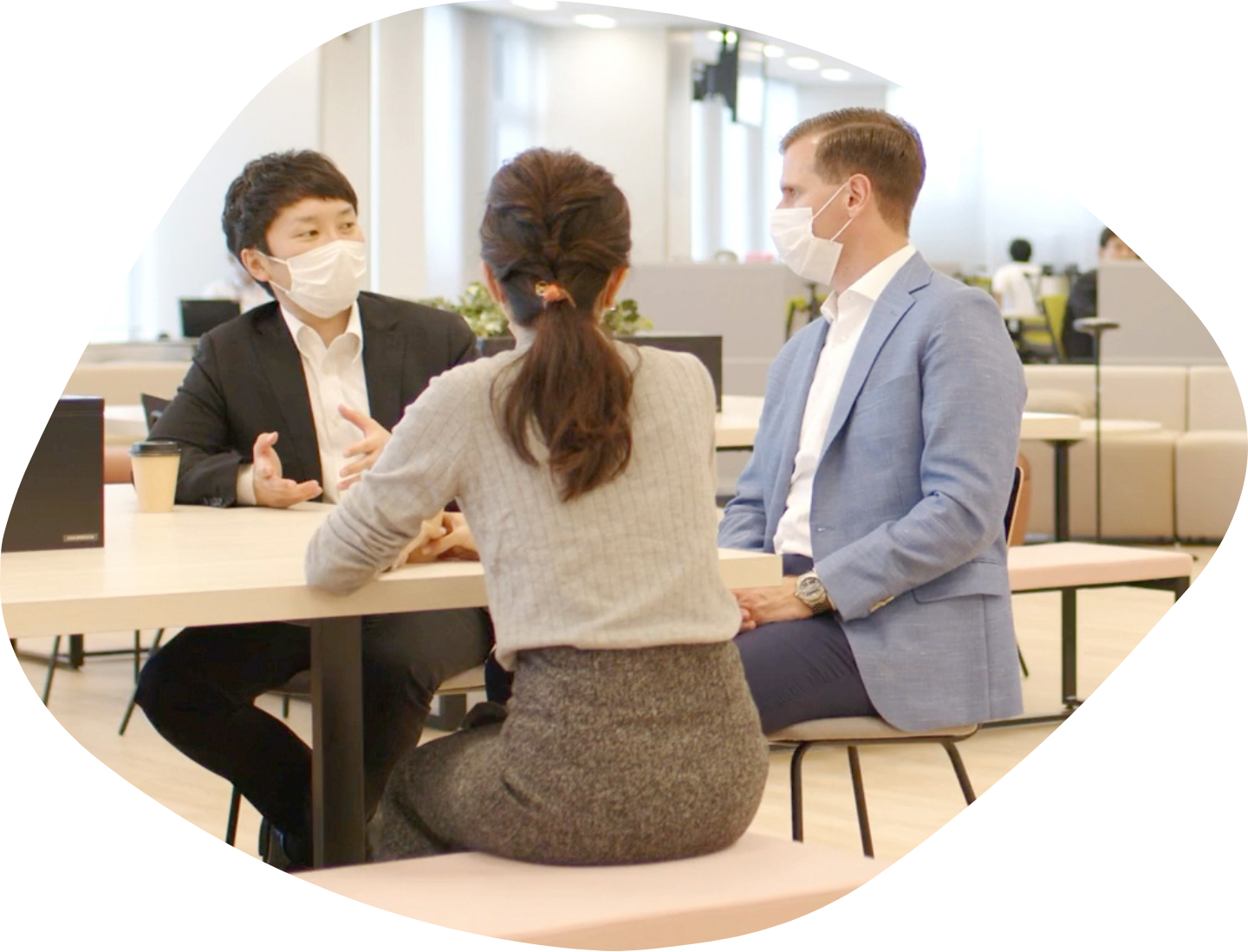 Significance of setting our Organizational Health Goals
Please tell us more about the Organizational Health Goals laid out in CSP2021.
Our Organizational Health Goals are a new challenge for us and are essential to realizing and executing CSP2021. We have already begun upgrading the hardware aspects of our HR system, and now we plan to focus on making the "software" aspects, such as culture and mindset, more robust with all employees, including management, working together to promote transformation. Astellas had a rather conservative culture and tended to act in a predetermined manner. To achieve true transformation under CSP2021, the company must create an environment in which each employee can pursue ambitious goals and collaborate with others under focused leadership. Our entire organization is passionate about this transformation.
 

The people who can help Astellas accelerate its transformation are able to think for themselves and take action and influence the people around them. They proactively point out areas for improvement, show a willingness to change, and make changes. To drive innovation, it is essential to set ambitious goals, even if going after them means taking business risks. The whole company will become an environment where it is natural for everyone—top management and division heads as well as mid-career and younger employees—to set ambitious goals, and where those who take risks appropriately will be appraised fairly, even if they miss the mark.
We are no longer in an age in which a single genius or charismatic leader decides and moves everything. To accomplish something unprecedented requires cross-divisional collaboration, bringing together members with diverse experiences and skills from multiple divisions. For that we need leaders who can keep an eye on their surroundings, keep pace, and gain the understanding of everyone involved to promote the plan. 
To this end, we've introduced Astellas Leadership Expectations, a representative behavior of the leadership we need to achieve the goals of CSP2021. We believe that aligning multiple teams led by multiple leaders moving in the same direction is the formula for future transformation and innovation.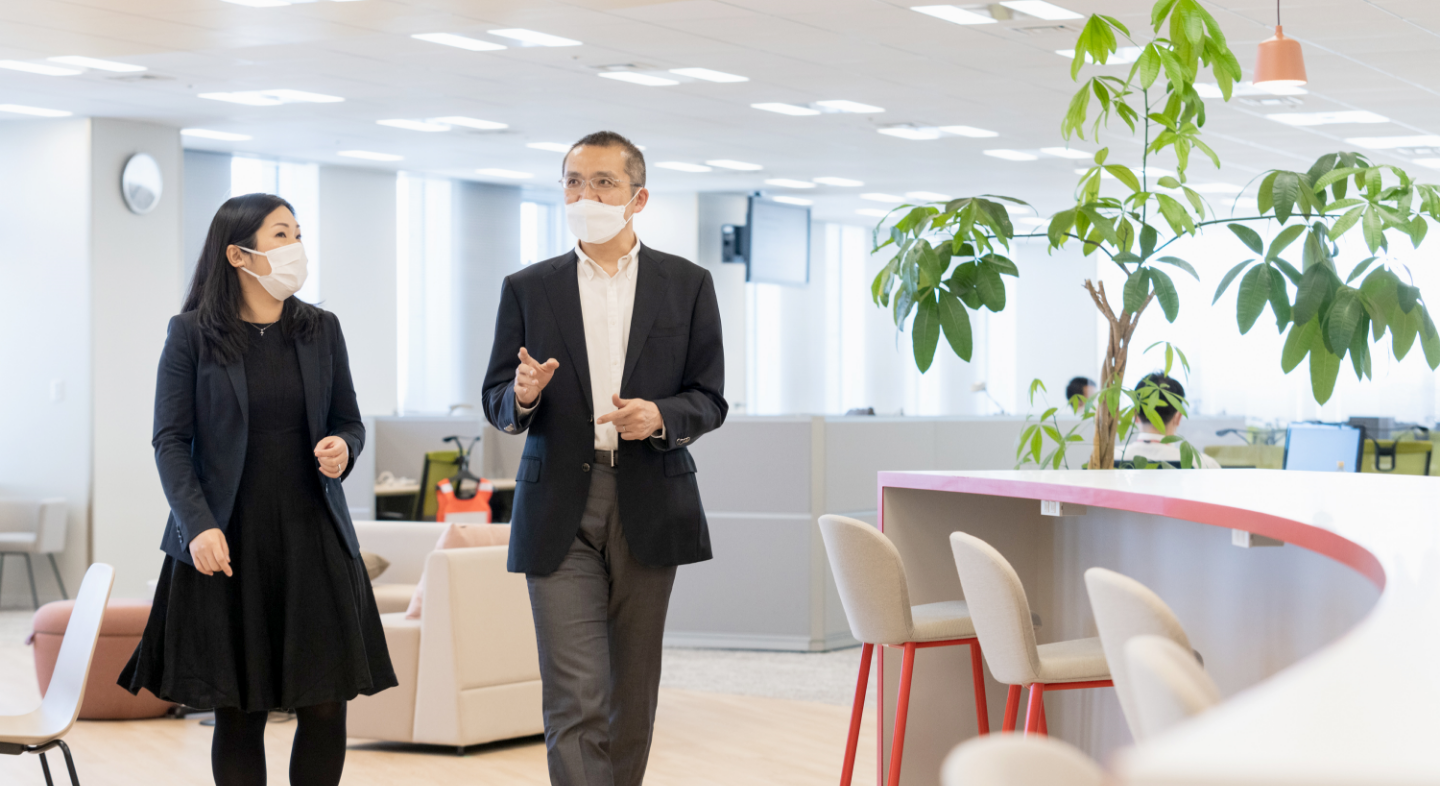 As I mentioned earlier, collaboration is the key to achieving common goals. Our leaders and everyone else must unite to pursue the organization's strategy. As a way to become One Astellas, we hold sessions called the "A Dialog with the CEO" where the CEO and small number of employees directly exchange opinions and ask questions. Approximately 120 employees participated in this dialog. We also hold "Ask Me Anything" sessions and "OHG Leadership Conversations" where top management and leaders answer questions from other employees. We've held twenty sessions so far globally and approximately 8300 employees have participated (as of end of February 2022). We also promote collaborations among divisions by setting shared objectives (cross-divisional goals).
By promoting our Organizational Health Goals, Astellas seeks to create a work environment where the right person is placed in the right position on a global scale. At the same time, we want to encourage each employee to step up and achieve their career goals. By doing so, we believe that all our employees will be able to accomplish more and greater things, at a faster pace, and that Astellas will realize its goals of innovation and transformation.
Ambitious goals and challenge-rich environment
Can you share an overall message about the VALUE Astellas' people can bring?
Our mission is to always provide new VALUE so that patients and their families can regain their health, and to reduce the burden on the medical community. To achieve this goal, all divisions—including R&D, manufacturing, and sales—share the same VISION and work together to deliver Astellas' innovative therapies faster, to a wider market, and in the right way.
Successful global companies are the ones that understand it is ultimately people who create and deliver VALUE. Based on this belief, we will continue to proactively promote initiatives that maximize the appeal of Astellas, a company that truly values its people.