Patient Centricity Solve-a-Thon: Igniting the Collective Imagination to Tackle Unmet Medical Needs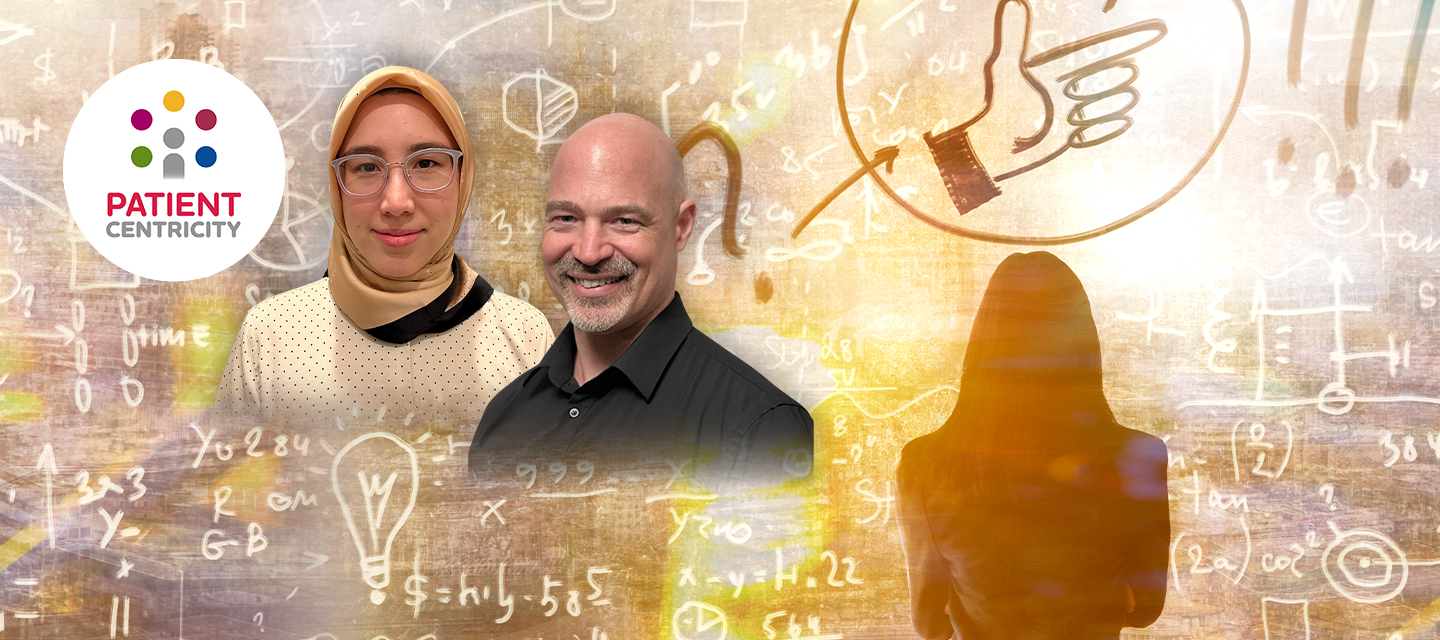 Innovation isn't limited to the R&D labs. We have always encouraged our employees to share their insights and ideas about how best to support patients by addressing previously unmet needs, because company-wide input ensures a diversity of opinions and fresh perspectives to provide maximum innovation. However, realizing these ideas has sometimes been difficult without a forum for collaboration and company support.
To remedy this, our Patient Centricity division established the Solve-a-Thon, an internal innovation challenge to bring forward ideas and approaches to help Astellas improve patients' lives. The competition was open to all our employees who would embark on a three-round elimination process, with the seven teams making it through to the final round to pitch their ideas. 
Chad Stewart, Senior Director, Culture & Integration, and Aisha Lee, Manager, Culture & Integration, from the Patient Centricity division were integral to the organization and implementation of the Solve-a-Thon. They explain how the internal innovation challenge came about and introduce the ideas of the four winning teams.
Harnessing the power of our employees' motivation and creativity
Ask any of our employees what inspired them to join the company, and there is a high chance that a personal, patient-centric story will be behind their motivation. Chad Stewart says, "Almost everybody in Astellas has an origin story that is the starting point for their hero's journey; a story that stokes a personal desire to make lives better for people. That could be a condition a close family member has dealt with or a treatment they have gone through themselves. These personal connections are why many employees have various ideas to improve patients' lives and are the source of inspiration. This is behind our team's decision to devise the Solve-a-Thon innovation challenge to harness the skills, knowledge, and motivation of our diverse employee base."
Innovation challenges can take various forms, including open innovation initiatives involving external parties; however, the Solve-a-Thon was intentionally geared toward an internal audience. Aisha explains the reasoning behind this decision "We want to cultivate a patient-centric mindset among all our employees; the sense that being patient-centric is up to each individual. We also want to show investment in our employees and listen to them because they understand the issues that they're seeing in their specific work areas. And by providing this platform and opportunity, we are enabling and empowering them to identify and address those issues."
 

While the team was confident that our employees would step up to the challenge, this was a brand-new initiative, and as Chad mentions, "While we knew that there was a burning desire for this, we couldn't be sure of the temperature." In the end, the response was very hot. Fifty-six teams registered from various countries, departments, and divisions, with people pitching ideas from multiple perspectives, ranging from apps, awareness campaigns, programs, devices, and others. Aisha reports, "It was incredible to see because sometimes there's a mindset that you can only be patient-centric if you're patient-facing or in a direct patient contact role. But that's not true. This was very inspiring for us."
Supporting teams turn strong ideas into true VALUE for patients
For the Solve-a-Thon to genuinely deliver its mission to "create patient VALUE and address urgent and important unmet patient needs," it was essential that each project idea be accompanied by a robust and feasible business plan.
Chad explains, "The people who submitted ideas came from a wonderful diversity of experiences and capabilities, but the question was, had they been on project teams where they can turn that ideation into a workable, strategically impactful solution? Many groups will have a seed of a solution, from which they engage with potential patients and other external organizations to verify or validate that the seed will grow into a tree or a forest in terms of impact. But we needed to accelerate their ability to go from identifying patients' unmet needs to ideation to desk research to field research, prototyping, and testing."
To that end, the patient-centricity team implemented a network of both external and internal coaches and mentors to help the teams accelerate their ideas. External coaches supported the Solve-a-Thon entrants in identifying whom they should connect to in target countries or who else they needed to talk to externally. Meanwhile, internal mentors such as General Counsel, and Primary Focus leads (Primary Focus is where we concentrate our R&D investments) helped the teams in various ways, from supporting the teams in identifying whom they needed to work with across the organization to creating contracts with potential external partners to protect our intellectual property. Above all, the teams could get the best possible shot to go from an idea to making a blockbuster impact in whatever dimension of patient support they wanted to focus on.
The winning teams—ideas that have the maximum potential for patient impact
After five months of mentorship, hard work and idea refinement, seven finalists comprised of 41 employees from six countries and 19 divisions presented their ideas live to the direct reports of the Chief Business Officer*. More than 1,000 employees from around the world participated in voting.
To reach their decision, the judges focused on patient impact, business impact, feasibility, innovative approach, and scalability; It was imperative that the winning ideas had the potential to make a significant positive difference in the lives of patients. After much deliberation, the four inaugural Patient Centricity Solve-a-Thon winners were crowned—Beyond Good Medicine, Circle Care, Device for Dysarthria Patients, and Heart of Nurses. All of these teams are cross-functional, leveraging diverse expertise to provide maximum innovation and VALUE to patients.
* Currently integrated into Chief Strategy Officer (CStO).
 
Beyond Good Medicine
Patients in underrepresented communities do not have the same access to healthcare resulting in huge disparities in health and well-being. Therefore, we want to increase access to trials and healthcare resources in underserved communities. Starting with clinical trial access, we are currently working to identify study protocols that would best benefit a more diverse population and a community HCP to be the associated trial investigator. We are also partnering with a medical college to provide experiential learning for medical students to gain experience, mentorship and an understanding of clinical trials and how physicians contribute to this critical process
 
Circle Care
Cancer does not only affect the body but affects the mind and significantly impacts the emotional and mental health of a patient leading to depression, anxiety, and fear. Our goal is to develop a mental health app that addresses these issues and see our application evolve into a life-changing experience for cancer patients, their families, and caregivers. We finally discovered the right vendor, which presented strong experience and knowledge in cognitive behavioral therapy and digital health in pharma industry and we are now working together towards our common goal, as well as being the first in the Middle East to provide cognitive behaviorial therapy methods in the Arabic language.
 
Device for Dysarthria Patients
Patients with dysarthria struggle with pronunciation and therefore have difficulty communicating verbally. They have severe pain in their life since we owe a lot to speaking communication in our work, life with our family and friends. After discovering this issue and the stress it places on patients, we decided to develop a smartphone-based speech-assistant device to improve dysarthria patients' quality of life. We are conducting interviews with hospitals, occupational physicians, and patients in order to more specifically understand customers who need solutions and set up business models.
 
Heart of Nurses
Nurses spend the most time with patients and have the most touch points with patients in their treatment journey. The Vision of this project is Astellas become the key partner for nurses and grow engagement with and gain insight from nurses to better understand patient experiences. We build the campaign to increase internal stakeholders' awareness around the critical role of the nurse, aim to introduce insights from nurses into strategy, and change organizational mindsets around how to involve nurses in innovating patient VALUE.

From ideation to realization—the next steps for the winning projects and the Solve-a-Thon initiative
The four winning teams have only begun their journey toward realizing their ideas. While each team is driving their projects forward, Aisha points out that the teams are not left to manage the next stages alone. She says, "One of the unique things about the Solve-a-Thon is the year-long dedicated support program place to help the teams through the development phase. We are providing further, more robust mentorship and regular executive coaching sessions, and we're checking in with them and providing continued support to bring their ideas to fruition."
As for the projects that didn't quite make it to the winner's podium, their hard work wasn't wasted. "For the teams that fell just short, we've introduced their ideas to our project teams in Rx+ Business Accelerator—our business area that leverages the expertise and knowledge of Astellas to create new healthcare solutions beyond medicine—with the intention of further developing projects by interested teams and finding a home for the projects. Project teams that were not among the winning teams in the first Solve-a-Thon are also invited to further refine and develop their business plan and resubmit their plan in the second Solve-a-Thon.
The second Solve-a-Thon will be held in early January 2023. Expectations are high for our employees to utilize their diverse experiences and skills to develop groundbreaking ideas and create genuine VALUE for patients by leveraging the power of One Astellas.
---
Astellas Patient Centricity Series
Patient centricity at Astellas—all about action
Read more