The research engine for our Primary Focus in Immuno-Oncology is based in Tsukuba, Japan, and Cambridge, Massachusetts in the US. This engine plays a central role in advancing the creation of innovative cancer therapeutics, by bringing together scientists with diverse backgrounds including pharmacology, chemistry, antibody engineering, pharmacokinetics, and safety under a bio-venture-like agile organizational structure. In addition, we collaborate with a broad range of our other research divisions and have established a robust network of external partners to strongly promote the "co-creation" that leads to VALUE for patients with significant unmet need in various forms of cancer.
Please click here to learn more about this Primary Focus Immuno-Oncology
 
We focus on the development of multifunctional modality platforms that enable simultaneous stimulation of multiple steps in the cancer immune cycle (Fig. 1). We are actively forming strategic alliances with world-leading research institutes and companies in the immuno-oncology field and have successfully built a robust and competitive pipeline (Fig. 2). We are also strengthening collaboration within Astellas at our Xyphos (San Francisco, USA), a cancer cell therapy leader, and our cancer translational science team (Cambridge, USA) to jointly address next generation immuno-oncology therapeutics based on our deep understanding of the tumor microenvironment.
Fig.1 Cancer immunity cycle and Our programs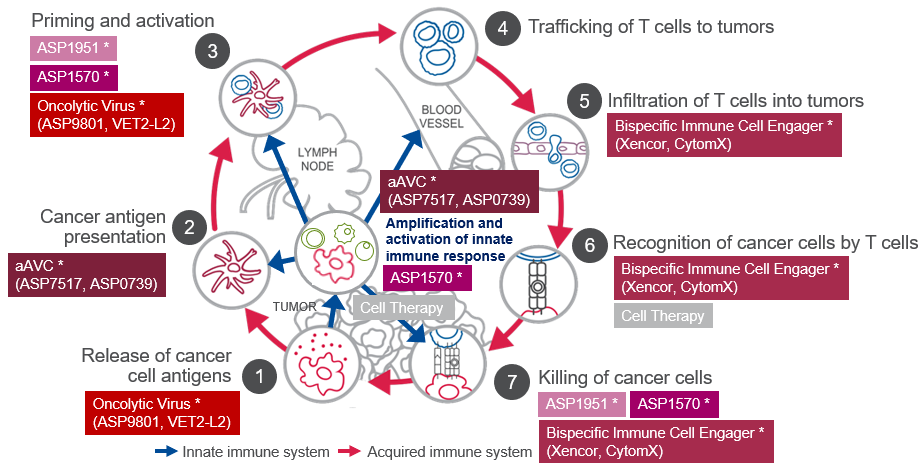 *Programs our research engine focus on
Source for Cancer Immunity Cycle: Chen DS & Mellman I. Immunity. 2013;39(1):1-10 and Demalia O. et al. Nature. 2019;574(7776):45-56.
aAVC: Artificial adjuvant vector cell, GITR: Glucocorticoid-induced TNFR-related protein

Fig.2 Immuno-Oncology Pipeline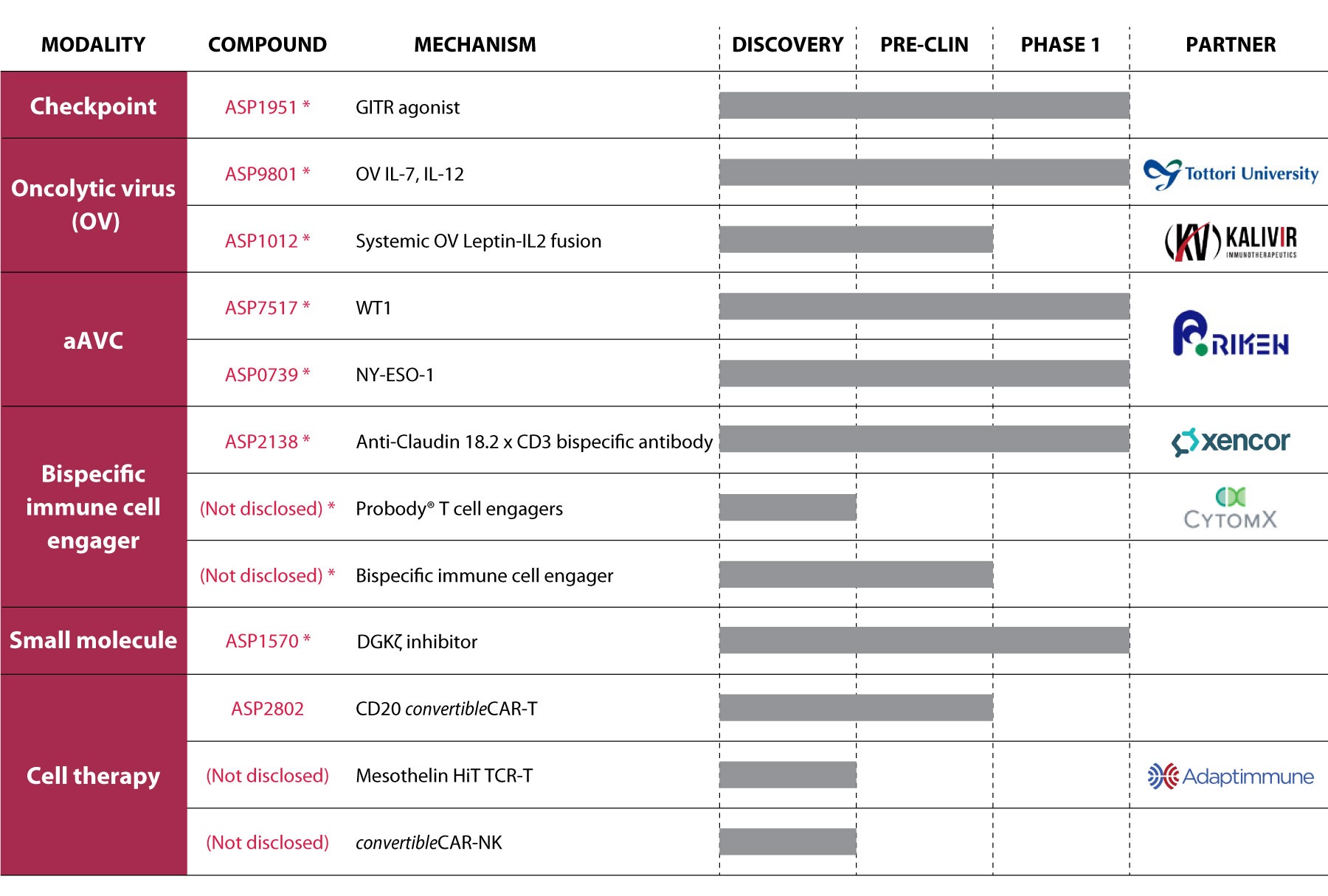 *Programs our research engine focus on
GITR: Glucocorticoid-induced TNFR-related protein, IL: Interleukin, aAVC: Artificial adjuvant vector cell, 
CAR: Chimeric antigen receptor, TCR: T-cell receptor, HiT: HLA (human leukocyte antigen)-independent TCR, NK: Natural killer
Leader
Dr. Yoshida, appointed as head of Immuno-Oncology as of Oct,1, 2021, joined Astellas in 2015, and has led several in-house drug discovery projects in the field of immune-oncology and alliances with external partners in Japan and overseas such as RIKEN, Xencor, CytomX, and Kalivir Immunotherapeutics. Prior to joining Astellas, Dr. Yoshida started his career at Eisai as scientist in oncology drug discovery, and also trained at Dana-Farber Cancer Institute as a visiting fellow. He received his Ph.D from Kyoto University.
 
Publications
IL-7 coupled with IL-12 increases intratumoral T cell clonality, leading to complete regression of non-immunogenic tumors.
Tasaki M, Yamashita M, Arai Y, Nakamura T, Nakao S.
 Cancer Immunol Immunother. 2021 Dec;70(12):3557-3571. doi: 10.1007/s00262-021-02947-y. Epub 2021 Apr 28. PMID: 33909103
Characterization of ASP8374, a fully-human, antagonistic anti-TIGIT monoclonal antibody.  
Shirasuna K, Koelsch G, Seidel-Dugan C, Salmeron A, Steiner P, Winston WM, Brodkin HR, Nirschl CJ, Abbott S, Kinugasa F, Sugahara S, Ohori M, Takeuchi M, Hicklin DJ, Yoshida T.
 Cancer Treat Res Commun. 2021;28:100433. doi: 10.1016/j.ctarc.2021.100433. Epub 2021 Jul 11. PMID: 34273876
Intratumoral expression of IL-7 and IL-12 using an oncolytic virus increases systemic sensitivity to immune checkpoint blockade 
Nakao S, Arai Y, Tasaki M, Yamashita M, Murakami R, Kawase T, Amino N, Nakatake M, Kurosaki H, Mori M, Takeuchi M, Nakamura T.
 Sci Transl Med. 2020 Jan 15;12(526):eaax7992. doi: 10.1126/scitranslmed.aax7992.
PMID: 31941828
Press Releases
CytomX Therapeutics and Astellas Announce Strategic Collaboration to Develop Probody® T-Cell Engaging Bispecific Therapies for Treatment of Cancer
https://www.astellas.com/en/news/22276
KaliVir Immunotherapeutics and Astellas Enter Worldwide Exclusive Licensing Agreement for Development and Commercialization of VET2-L2 Novel Oncolytic Virus
https://www.astellas.com/en/news/16246